"Pretty in Pink" has taken on new meaning in our house. Around here we affectionately call Sophia "Pretty" as in "Did you sleep well, Pretty?" or "Hi, Pretty!"

We've got some old family pictures and Craig's mom was apparently called "Love" when she was little. One picture says, "Love gathering the eggs" and another says, "Love just got up." But I'm getting side-tracked (though I love that connection!).

Our very own Pretty loooves pink and has not liked her yellow room ever since she learned color names. A few weeks ago I was suddenly inspired to give Pretty her Pink Room she's always wanted. Her Daddy and I secretly made plans and purchases.

The original intention of the "Gatlinburg Escape" was to give me some R&R, but as the secret mission of the Pink Room evolved, I chose to use this time to WORK&WORK instead. And work. I never even got to crack open the books I had lined up, or read through my new camera manual, or finish editing our May vacation pictures.

But surprising Sophia (and being able to work in peace!) was great fun. The gang got back home around 7:00 last night and after our meet and greet in the kitchen, I snuck up to Sophia's room to wait for her. Here is the long anticipated reaction:



A GALLON OF "FRESH PINK" PAINT: $17



WOODEN LETTERS: $9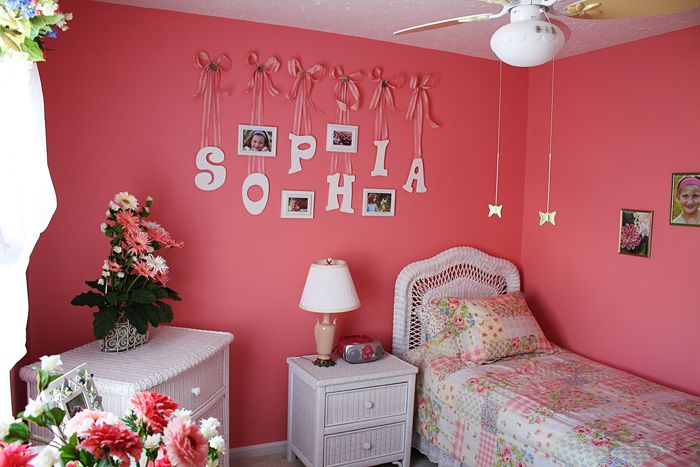 PHOTO ENLARGEMENTS: $20



CLEARING CLUTTER AND CLEANING: a sore back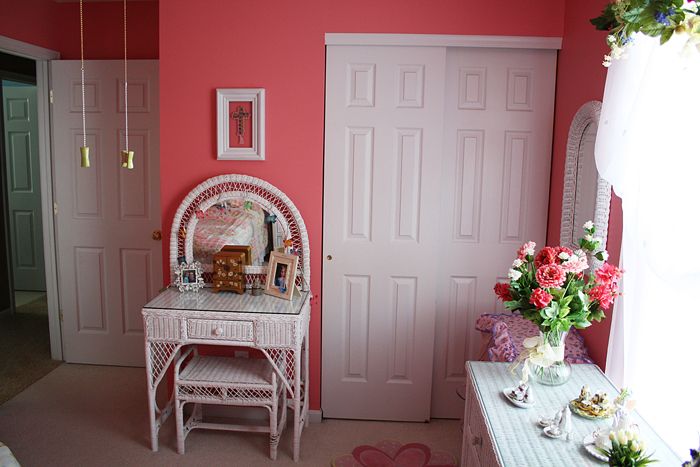 SILK FLOWERS, BASKET, RIBBON: $30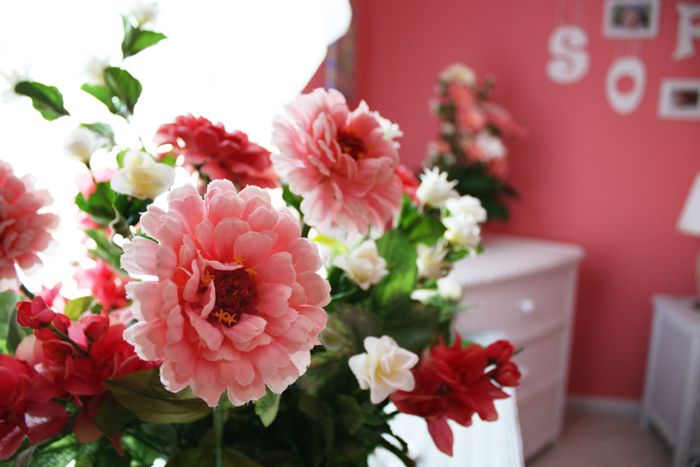 WATCHING SOPHIA JUMP FOR JOY: priceless



Here are the before & afters.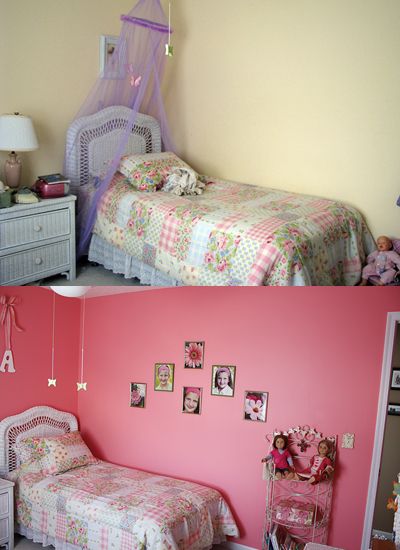 There's more work (and purchases) ahead (new bedspread, new lampshade, some tweaking of the positions of the letters and bows, some new doo-dads here and there) but we're off to a great start, don't you think?

Lots of thanks to all who fueled the excitement and contributed help, encouragement, advice, picture frames, and direction... Kimberly, Sheila, Hannah, Nana, and Papaw!